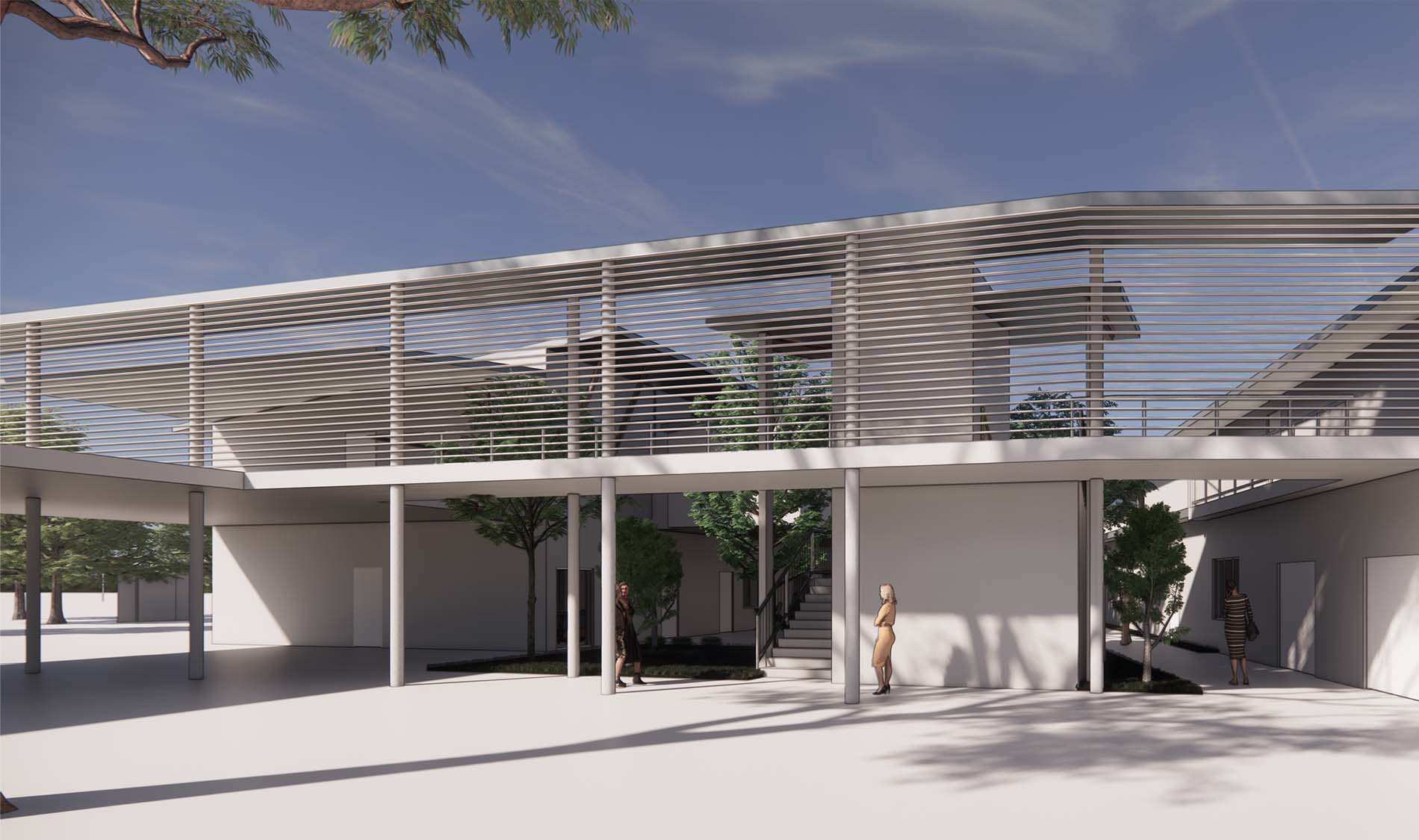 Interaction outside the classroom equally important in school's master planning process
St John Fisher College has been looking towards the future and wanted a master plan for their school which could support their growth from approximately 500 to 1000 enrolments over the next 10 years.
They are at an exciting precipice – they are a quiet school that is doing great things. Since its inception in Bracken Ridge 40 years ago this year, the College has embraced Design Technologies and Arts as their point of difference. In an innovative approach to education, the College offers a French immersion program, and they are developing distance learning opportunities for students too.
Master planning schools is a passion of ours. We enjoy rationalising space for a school, and in turn, giving them space to use in a way that works for their unique circumstances. We approach it as addition by subtraction – the result being a better use of open space by looking at ways people move through a school to create an experience. We consider the walkways and corridors; how students interact with the landscape; which spaces they seek for quiet and thinking; how cover can not only shade but shelter. Ultimately, we find the interaction outside the classroom to be just as important as within it when completing the master planning process.
First master planning experience
While St John Fisher College is 40 years old this is the College's first experience creating a master plan in the modern era. While some schools may find this challenging as a starting point, we find it equally exciting. It provides the opportunity to create something from the present by embracing the history of a school and looking towards the future. The master plan encourages schools to dream within a framework that provides financial logic so there isn't the need to 'undo' things in the future. In St John Fisher's case, this means development at the school can be delivered over several stages to provide continued amenity in an environment that maintains quality education. A key tenet of the plan is that it underpins the College's commitment to" Laudato si – Caring for our Common Home."
Prioritising organic growth
The new master plan will allow the school to grow organically over time with the right facilities that will ensure growth targets can be met. This will include buildings and infrastructure to accommodate up to five streams of learning, as well as additional administration and staff facilities across the campus. With limited space available, we have increased learning spaces to two stories to ensure the student body can grow. This will lower travel time between classes while maximising green space – decreasing the endless sprawl that can often occur on a campus.
Predictability through ministerial planning
For a school in this position, the ongoing process of multiple development approvals can be consuming. To meet their growth goals, it was advised to apply for Ministerial Planning permission. This approach ensures predictability for a school, with a 20 year plan to complete everything within the approved master plan. And because 'adapting' is the new normal for everyone around the world, the plan still allows flexibility for change within the building fabric. This ensures learning from home, digital and online learning, or whichever new essential is required of the school, can be catered to.
The collaboration between St John Fisher and our practice is a team who are all invested in education. Each of our design team members has strong family links to education, often going back generations. This relatability and experience – both from a personal level and our practical approach to funding and strategising– has been essential to the success of the master planning process for the school.