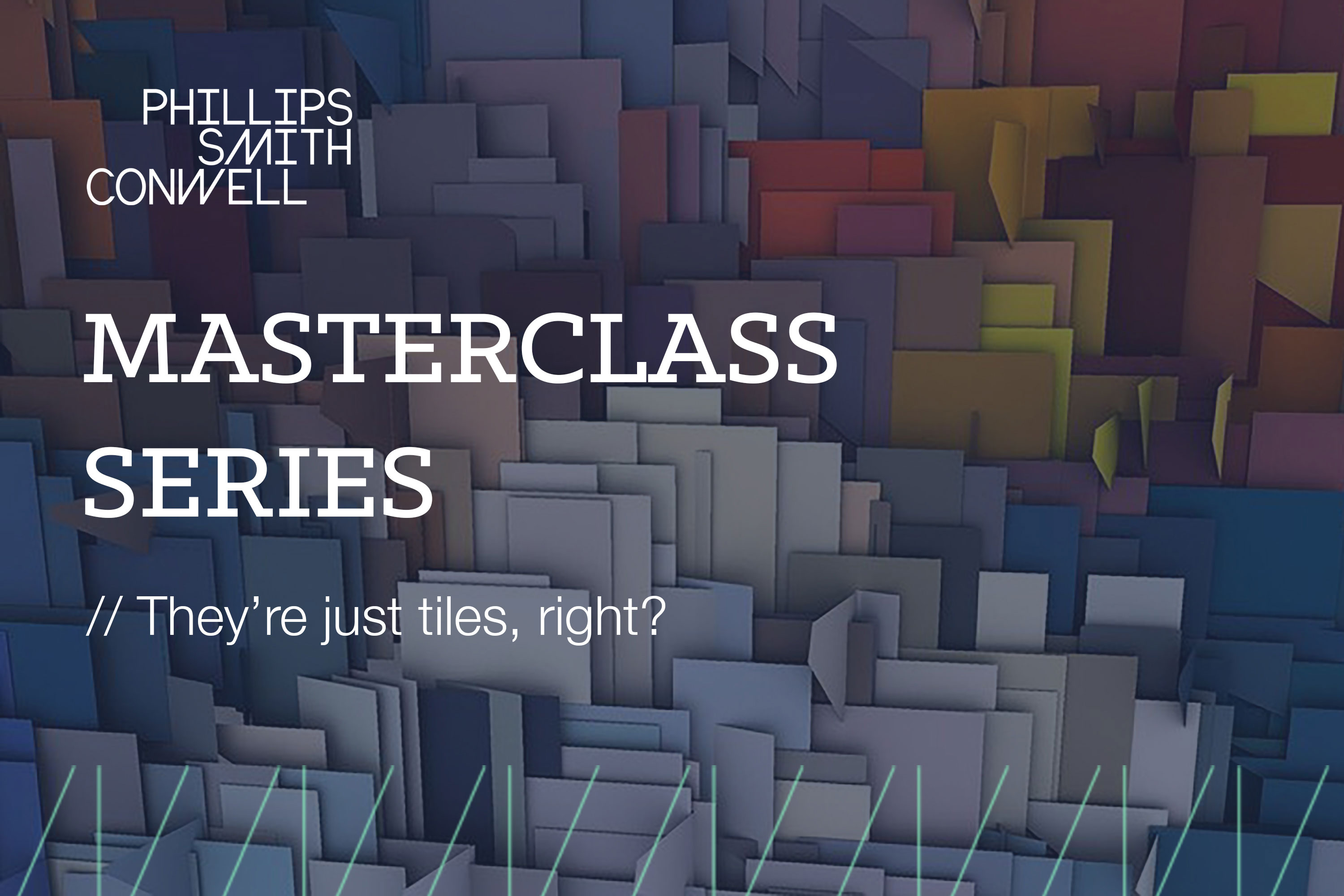 PSC Masterclass Series: They're just tiles, right?
When selecting finishes for a project, tiles are one of the most specified items, however, aspects of the humble tile can often be overlooked and have the potential to complicate even the most simple of specifications. Through this Masterclass, we consider not only the varying types of products available, but also their appropriateness to particular locations and uses.
Ceramic, porcelain or something completely different?
The two most common types of tiles are ceramic and porcelain. While they may look similar, they perform in vastly different ways.
Ceramic tiles are more porous, less durable and are not suitable for anywhere that sustains a high level of foot traffic. However, they can be more decorative with the ability to be printed on prior to the glazing process. Porcelain – or vitrified tiles – on the other hand are non-porous with the colour of the tile being maintained through the entire tile thickness. This makes them ideal for use in commercial and high foot traffic areas.
Natural tiles such as terracotta, marble, granite and bluestone are also common options, yet due to their naturally occurring pores, require sealing and a high level of ongoing maintenance. Other tile options can include glass, mosaics with a sheet backing and pressed metals.
Rectified or Cushion edging?
The edging of a tile affects the ease of which the tiles are laid by a contractor, the grout allowance required and the cleanliness of the lines in the end result. Rectified edges are cut after the tile firing process resulting in square, straight edges with a much smaller grout tolerance than cushion edged tiles. Cushion edge tiles have a slightly curved edge, which can hide any variances in tile thickness when laid, however the allowance for grout often needs to be 3-4mm.
Does size matter?
It's important to ask the tile supplier for the exact tile size. This may seem obvious, but some suppliers will base the size on the actual tile, while others will base it on the grid size – inclusive of grout. This means that a 600 x 300 tile may actually be 597 x 297, allowing for 3mm grout.
All tile manufacturers specify three different types of sizing:
Natural sizing is not sorted mechanically, resulting in size variation and tend to be budget, artisan or handcrafted tiles.
Calibrated sizing is prepared to suit manufacturers individual size ranges and may not allow for grout variations
Rectified is the truest sizing; however, does not mitigate any warp or thickness variation
Slip Ratings
The slip rating allocated to a tile is vital in specification of flooring, especially when considering wet areas, public access, egress zones and commercial spaces. The slip ratings are assigned either a P or R rating to assist in the specification process.
P ratings are described as a 'Wet Pendulum Slip Test' rating and are defined by the ability for the tile to withstand movement dependant on the level of friction on the surface. This test results in a surface being rated from P0 – P5; the higher the number, the higher the surface friction.
The R rating, or 'Ramp Test' rating, is defined by the level of incline the surface can be at before the point of slip is discovered. The higher the angle of incline, the higher the rating between 9 and 13. Any surface creating a slip point lower than at 6 degrees cannot obtain an R classification. Further information about either of these slip tests and their ratings can be found in AS 4586-2013.
While there are many other tile options, processes and considerations regarding tiles, this Masterclass overview serves as a reminder to our designers to be aware of the various information impacting on their specification decisions. For further information you can refer to the Australian Standard AS 3958 or AS Handbook 197 & 198, or contact us for more clarification.