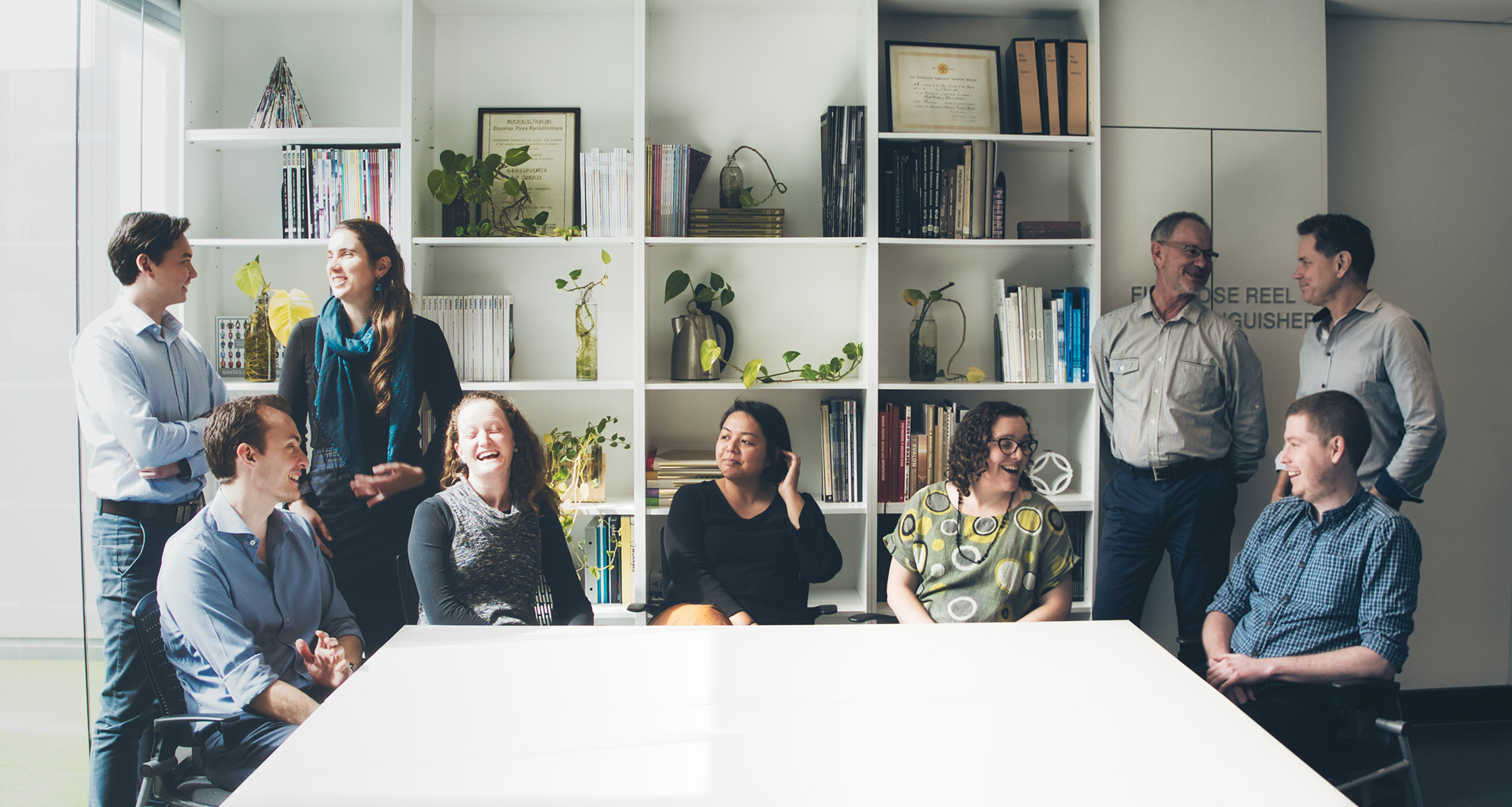 QUT Centenary of Architecture: Sharing our memories
This year marks Queensland University of Technology's (QUT) centenary of architecture and Phillips Smith Conwell is proud to be a part of their celebrations as event sponsor throughout their festivities.
As a practice that has been around as long as QUT – plus a few years more – we took the opportunity to look back at our connections with the University over this time and have discovered 90% of Phillips Smith Conwell architects, past and present, are alumni's of the University.
To offer some history, a four year Diploma of Architecture was first established at what was then known as the Central Technical College (CTC) in 1919. The Queensland Institute of Technology (QIT) was formed in 1965 and continued courses in architecture thereafter, with the Institute being granted University status in 1989. Today, QUT offers a Bachelor of Design (Architecture) and a Master of Architecture at their Garden's Point campus.
We've uncovered past and present Directors and team members who have studied at CTC, QIT and QUT over the years. Interestingly, our practice founder, TR Hall, studied at Brisbane Technical College which became part of the Central Technical College in 1908 – just three years after our practice was established.
With all this recollecting, we asked our current team members to reminisce about their time at the University (in its various forms) and share their memories. Here's what they had to say:
—–
"Sleep deprivation. QIT hours were 6.00pm to 9.00pm four days a week and you were required to have a full time job in an architect's office or you could not do the course. A lot of the lecturers were architects who worked in firms during the day – not academics – and gave back to the industry by lecturing at night and passing on their knowledge and passion for architecture. Col Jessup, Dan Nutter and Athol Bretnall to name a few"  Craig Smith, graduated QIT 1989
—
"My special memory of QUT is the friendships that have transformed into a professional network"  Emma Termont-Schenk, graduated QUT 2005
 —
"Attending the European architectural study tour in 2010 was a highlight for me. It was organised and taken by Anoma (Dr Anoma Kumarasuriyar) across Germany, France, Italy and Switzerland"  Joanne Serisier, graduated QUT 2011
 —
"The great campus location set on the fringe of the CBD and along the river and Botanic Gardens"  Eric Sturlese, graduated QUT 2010
 —
"Late nights working on assignments and no life!"  Andrew Holmes (Director), graduated QIT / QUT 1989
—
"Great friendships were formed – not just in architecture but cross-disciplinary as well in the world of design. Being in the Gardens Point Campus was also a great time getting to know the City of Brisbane after not having spent much time in the CBD"  Vicky Vu, graduated QUT, 2005
 —
"I spent many hours at J Block studios. I remember meeting Gabriel Poole who was a guest speaker when I was a first year student, and that has stayed with me"  Renae Paulsen, graduated QUT 2006
 —
"It was  a great campus for being so close to the Gardens and the City.  I remember in Year 1 that Irish band Thin Lizzy played an impromptu concert in the Gardens; and all the older buildings being fumigated for the West Indies termite infestation. With Methyl Bromide!  Yikes!"  Sergio Sarri (Director), graduated QIT 1979, QUT 1991 + 1998
 —
"Late nights in J Block building models on the mezzanine level. Having long lunches in the Botanic Gardens doing some people watching. Solo work in the library when the design labs became too manic. Going to the bar with the professor and class after it was all over!"  Jack Ward, graduated QUT 2015
 —
"Paula Whitman and Dan Nutter were particularly good lecturers, and I made some lifelong friendships of course!"  Brett Meyers, graduated QUT 1996
 —
"D Block, lectures in the black hole and the glorious lo-fi era when you had to practice your handwriting to get your drawings up to scratch"  Louise Cutler (Director), graduated QUT 1998
—
"A good memory would have to be the end of year Architecture exhibition. During my bachelor degree the studio rooms in J Block were assigned to each cohort who had an opportunity to curate the space and display their hard work from assignments completed during first and second semester. Some displays were quite creative!"  Lara Tanswell, graduated QUT 2012 + current Tutor / Seasonal Academic
 —
"I began my studies in 2011 whilst I was in year 12 through the Start QUT Scholarship Program, undertaking 1 unit per semester. Although this was the earliest memory of studying there, it is the one that has stuck with me the most as it introduced me to the freedom of University life, but also taught me the importance of time management and a healthy life balance. I also have many memories of all-nighters and late nights spent in the design labs"  Nick Tan, graduated QUT 2017
 —
Photo: (Back Row, L-R) Nick Tan, Lara Tanswell, Craig Smith, Brett Meyers. (Front Row, L-R) Eric Sturlese, Emma Termont-Schenk, Vicky Vu, Renae Paulsen, Jack Ward.