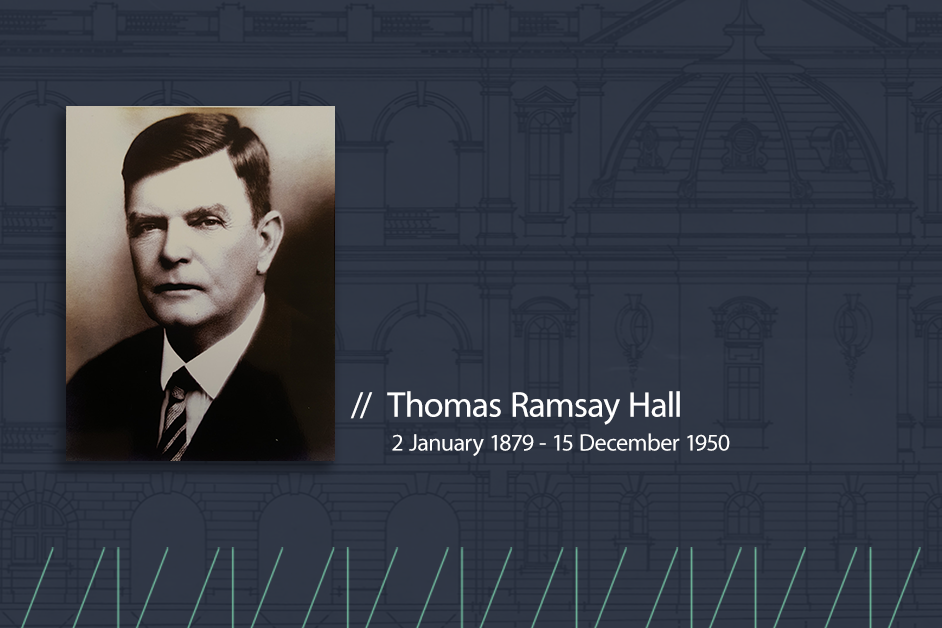 Thomas Ramsay Hall
In February 1905, Thomas Ramsay Hall (TR Hall) submitted a notice to tender in The Telegraph, marking the beginning of 115 years of continuous operation of his practice – now known as Phillips Smith Conwell architects. While we have had a long and successful history of shaping the architectural landscape in Brisbane, this month we celebrate the man who began the practice and explore who he was.
A family of Architects
Thomas Ramsay Hall was born in Brisbane to John R Hall – one of Brisbane's early architects – and his wife Charlotte Thomas. Hall senior was a diligent man, operating an architecture practice which continued on as Hall & Son when TR Hall's half-brother, Francis Hall joined the practice in 1896.
After the passing of Hall senior, TR Hall broached the topic of partnership with Francis, however this was refused after being told he was too young to take on the responsibilities. This did nothing to deter TR Hall, and he began his own business.
Where it all began
TR Hall attended Brisbane Boys Grammar school on scholarship and was awarded the Francis memorial prize for excellence in mathematics. With this behind him, TR went on to Technical College to study a course in architecture, accountancy and valuating, while simultaneously working as a cadet in the Queensland Public Works Department. During his time studying, TR won first prize in mechanical drawing and building construction, was promoted to draftsman and joined the Sandgate Parliamentary Debating Society. Though he wouldn't have been aware at the time, this combination launched his career of designing municipal and institutional buildings.
His most well-known projects
TR Hall's earlier works included Sandgate Town Hall, St Joseph's College at Nudgee, the new Convent at Rosalie and The Royal Hotel in Roma.  While partnering with various other architects throughout his career (most notably George Gary Prentice and Lionel Blythewood Phillips), Hall worked on iconic Brisbane buildings such as;
More than an Architect
While becoming more and more accomplished in his career as an architect, TR Hall maintained a passion for community, and providing service where he was able. In 1939, TR was appointed by the Federal Government to assist in defence works. This resulted in travelling all over Australia, inspecting defence building, hospitals, barracks, and to rebuild Darwin after the bombing in 1944. For this work, TR was awarded a King George VI medal, and consequently turned down a Knighthood as he strongly believed it was simply his duty to do the work he had done.
In addition to this defence work, TR was the Honorary Architect for both the Queensland Ambulance Transport Brigade, erecting centres in Southport, Burleigh Heads and Beaudesert. He was also the Honorary Architect for the Queensland Life Saver's Association and was a keen advocate for the work they did. His involvement with this association meant connecting with the likes of Jim Caville, designing iconic hotels on the Gold Coast and visiting Surfers Paradise as often as was permitted.
Beloved family man
"Thomas Ramsay Hall was a man of considerable technical resource with a clever mathematical brain and a very pleasant personality. He loved his swimming, golf, bowls, tennis, boating, bridge, chess and horse racing… His family always have admired him for his generous nature and love of all things in life."
Robin Matfin (nee Hall), Granddaughter of TR Hall